UPDATED (March 2016): We're on Racked too!
Marie Claire's Annual 55 Best Online Shopping Sites has just been published, and MagicLamp has not one but two clients on the list!
In Claire's "definitive list of best online shopping destinations," MagicLamp site Opening Ceremony was selected for the Fashion section of the list, joining upscale online clothiers like Net-a-Porter, STYLEBOB, and Pixie Market.
FACE Stockholm was included in the Beauty category and commended for their sophisticated cosmetics, all stylishly displayed on their bold, sleek, custom-designed user interface.FACE Stockholm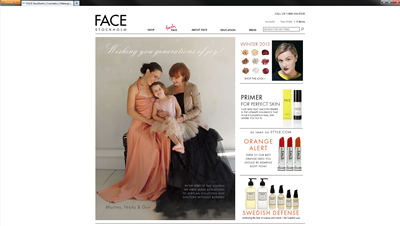 http://www.marieclaire.com/fashion/best-online-shopping?click=pp#slide-30
OC and FACE have been clients of MagicLamp for years now, and we're proud to see them getting this recognition.
---
Opening Ceremony shows up on Racked.com's Best Online Shopping Stores
Among others such as Anthropologie, Forever 21, H&M, J.Crew, Nasty Gal, Norstrom, and Zara, Opening Ceremony gets Racked.com's vote for best online shopping stores:
Once simply a quirky boutique; now a fashion force to be reckoned with. Find brand new designers, niche lines from around the world, exclusives from big-name brands, and the store's own in-house line in the expansive mix.