Esqueleto is a shop located in Oakland, CA, which offers a collection of art and jewelery curated by owner Lauren Wolf.  After designing the Esqueleto website, Wolf chose MagicLamp Networks to develop the eCommerce site.  While it was important to find a website development firm that could properly convert her clean, simple website design into a fully-functioning eCommerce site, it was also important that the eCommerce website development firm could provide a site with features such as backend Content Management System integration and a customer account portal, which would allow Esqueleto to optimize its customer service by streamlining its logistics and customer communications.
Magiclamp Networks' Magic Shopping Cart was an optimal choice for Esqueleto.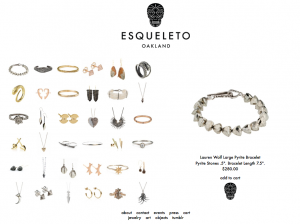 Magiclamp fully integrated the design of the Esqueleto brand with the needed modern function of the Magic Shopping Cart, which includes integration with the custom Content Management System.  The result is a beautiful and minimalistic website whose real appeal lies in the speed and functionality delivered by MagicLamp's custom JavaScript programming and image-based scripting. MagicLamp integrated a custom Zoom feature into the product pages, so Esqueleto's website visitors are offered a comprehensive view of the objects, jewelry and art of the shop.
Furthermore, Magiclamp's Content Management System provides Esqueleto with the ability to edit content on the website in a straightforward and real-time manner while maintaining proper Search Engine Optimization and web compatibility.  Click here to learn more about MagicLamp's Content Management System.
The Esqueleto website has a completely custom appeal.  Initially, one notices the minimal design and the simple menu selections.  Along with the product display grid, the visitor can view all products within a single category without switching page views or waiting for images to load.  Images load immediately and the design is maintained across browsers, platforms and devices, including iOS mobile devices.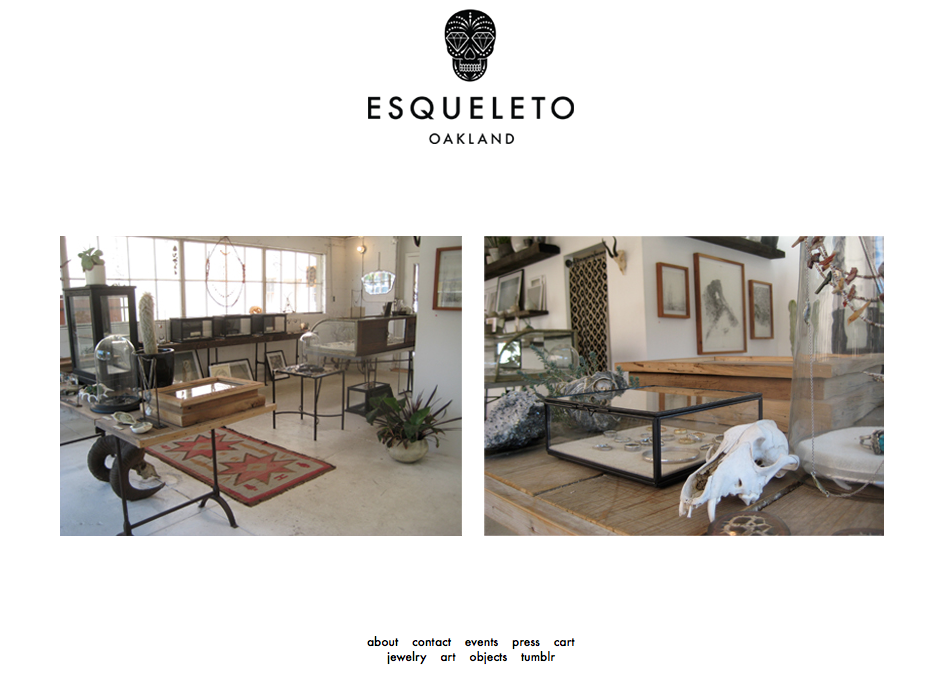 The Esqueleto website provides its visitor with a very strong impression of quality and value.  In an global eCommerce environment where aesthetics and value attribution are increasingly important, Magiclamp Networks delivers a product that raises the bar in eCommerce and custom web development.  The simple, clean aesthetic of Esqueleto.com allows the website to virtually disappear from the viewers mind, so all that is left to see are the unique imperfections of handcrafted art.
Click here to view MagicLamp's complete Web Development Portfolio.