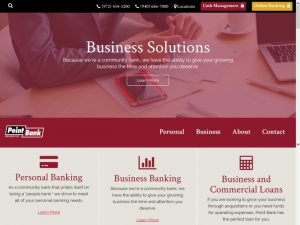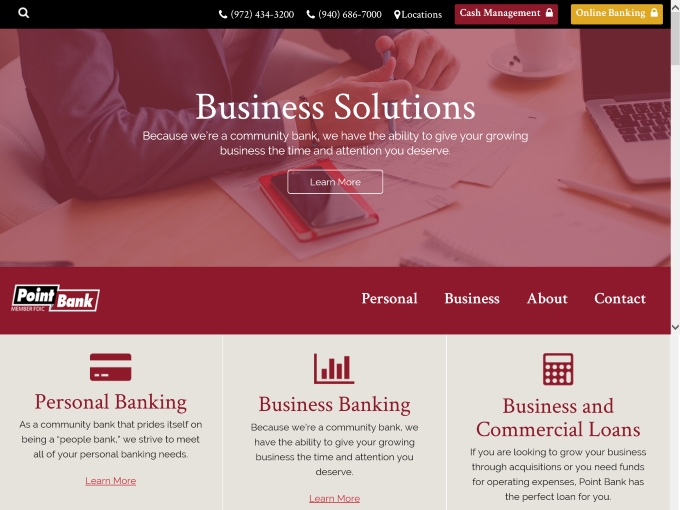 There are few things more gratifying than helping out your local community. PointBank's been doing it over 100 years, and now MagicLamp can proudly say that we've partnered with them in their efforts. In creating a modern and fully integrated website for PointBank, we've been able to take part in building them a web presence that shows off just how much they care about their community on a personal level.
WordPress
Our new site design for PointBank was completed in WordPress, allowing us to use the numerous tools and plugins WordPress offers to create the perfect site for PointBank. Our WordPress design included a useful mobile design, a Loan Calculator widget aimed at making the loan process a bit more approachable, SEO optimized copywriting, a custom locations widget with all bank locations mapped out, and WCAG 2.0 AAA compliance levels, all on a custom theme we created specifically for PointBank.
Mobile Web Design
Probably the best way for a local business to ensure it has a good relationship with its surrounding community is through accessibility and good communication. With this in mind, MagicLamp created a new, user-friendly mobile platform to ensure that mobile viewers land on comfortable, easily-navigated site. The new mobile site allows viewers to get a very clear view of how much PointBank cares for its community, carefully demonstrating that it is indeed a "people bank."
Custom WordPress Theme
As both PointBank and MagicLamp know, every business is unique. While PointBank acknowledges this through their flexibility and desire to help local businesses succeed, we show it by designing not just a custom website, but a custom theme to create a truly distinct web presence that showcases PointBank's dedication to their customers.
Loan Calculator Widget
Let's face it, going online to figure out loan specifics can be more than a little bit difficult and certainly a bit intimidating. PointBank recognized this and asked us to design a loan calculator widget that would enable their visitors to figure out at least the basics of their loan. This makes the loan process a good deal more accessible and less daunting by showing some real figures so viewers can have an idea of what expect before entering into the loan process.
Locations Widget
The locations widget plays a key role in crafting PointBank's online image.  At the bottom of each page, the widget simply and clearly shows off the various PointBank branches, their hours, and contact information. It even shows which branch is closest to the visitor. The locations widget allows visitors to see that PointBank has branches across much of Denton County and is viable banking option for anyone living in that area.
SEO Content Writing
What good is even the best web design if it doesn't show up in Google search results? Through search engine optimized content, we were able to secure PointBank's position as a top search result without sacrificing the usefulness good content writing affords.
WCAG 2.0 Compliance
You don't have to take us at our word when we call the new PointBank site user-friendly. The World Wide Web Consortium (W3C) has certified the PointBank with the highest possible rating of AAA according to the Web Content Accessibility Guidelines (WCAG 2.0), meaning that the site flawlessly demonstrates all the key characteristics of a functional, well-designed website.
MagicLamp is proud to be partnered with PointBank in their community-oriented approach to banking, and we thoroughly enjoyed getting to work with a business that cares so deeply about the people around it. We can't wait to see what the future holds for our relationship with PointBank!