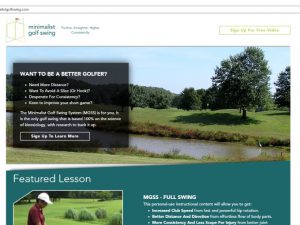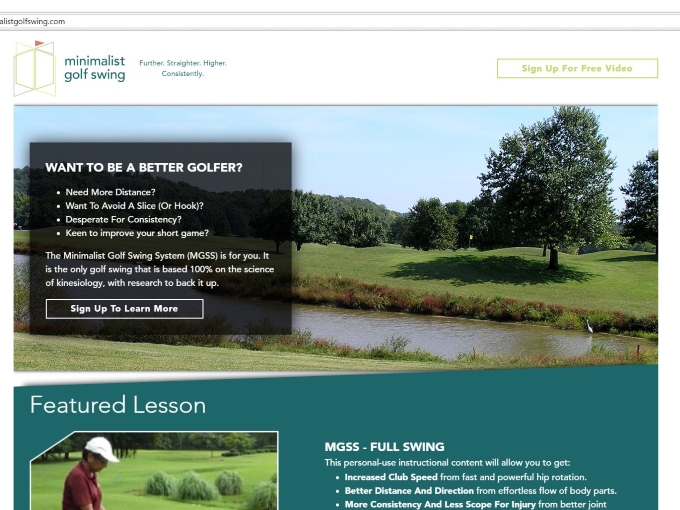 The people behind Minimalist Golf Swing have truly thought of everything. Their program, the Minimalist Golf Swing System, is a merger of decades of professional-level golf experience, advanced kinesiology, and technology that intuitively instructs users on how to drastically improve their golf game. Needless to say, creating an online face for a company with such complexities as Minimalist Golf swing presented a unique challenge for MagicLamp, a challenge we were happy to meet. Through WordPress, were able to build the perfect website for Minimalist Golf Swing, and by using web design and WordPress plugins, we were able reveal some of the qualities that make Minimalist Golf Swing such a unique business.
WordPress
WordPress remains our top choice for developing and designing custom websites. Through its wide array of tools and its easy customization, MagicLamp is able to build websites that seamlessly function as an extension of an existing business. Minimalist Golf Swing was no exception.
The Minimalist Golf Swing WordPress design is simple and, appropriately, minimal. Despite the minimalist design, the site is full of useful information and helpful diagrams, allowing visitors to get a taste of the Minimalist Golf Swing System. Using the online store to purchase learning materials is quite easy. The site contains an About page, the online store, testimonials, a blog full of tips and interesting information, and a News page. Our WordPress design truly captures the essence that Minimalist Golf Swing works to cultivate.
WooCommerce
When creating online stores, there's no better tool than WordPress' WooCommerce platform. WooCommerce is the most widely-used ecommerce platform in the world, powering 39% of all online stores. Minimalist Golf Swing offers a very specific selection of online lessons, and WooCommerce was the perfect way to build their store. With the versatility offered by WooCommerce, we were able to build a simple and intuitive online store that showcases Minimalist Golf Swing's products and makes it easy for visitors to make purchases.
Learning Management System
As an educational resource, Minimalist Golf Swing required their website to be able to support some rather unique functions. MagicLamp was able to work with them and design a Learning Management System for their customers. A Learning Management System is an aggregation of videos and online quizzes aimed at ensuring the success of Minimalist Golf Swing's customers. Through the Learning Management System, Minimalist Golf Swing is able to ensure their materials are understood, making sure that the customers see the progress that they desire.
MagicLamp thrives on the success of our clients. Through our WordPress design, WooCommerce expertise, and meticulously crafted Learning Management System, we were able to help Minimalist Golf Swing attain the level of ecommerce they desired while ensuring that their website has a professional and modern appearance. MagicLamp's WordPress design was built with visitors in mind. It is clear and simple, and materials are quickly and easily accessed with no hassle whatsoever. This visitor-minded design makes certain that visitors to Minimalist Golf Swing can find exactly what they're looking for, ultimately increasing their amount of ecommerce and further establishing their business.